Gelsum Relief Cream is a full-spectrum thick, luxurious cream-based, 750 mg topical. Absorbs quickly, not sticky and does not leave residue. Moisturizing cream with lower menthol than some pain relief creams on the market. (10% very little tingle sensation, a high % would be over 17% which feels like tingling sensation that lasts about 10 min.)  Lower menthol has so many more benefits as high menthol would irritate your eyes or cause sinus irritation therefore, offers the ability to safely use as a spot treatment on the face and décolleté (do not apply on or under eyes, although temples are ok without irritation like for sun-damage or migraine control). Once applied to sun spots you may experience
It has been our experience that CBD with a higher mg can cause pore blockage and could be irritating applied to the t-zone on your face. Specific dosage of CBD to the skin is not as straightforward. So we suggest you see a few of our testimonies taken from 1,000's of CBD clients as they share their experiences using the serum (0 menthol) for anti-aging/acne/sun-damage and relief cream for pain relieve and sun-damage.
The American Academy of Dermatology (AAD) association says that the anti-inflammatory properties of CBD may aid treatment for acne psoriasis and eczema and itchy skin.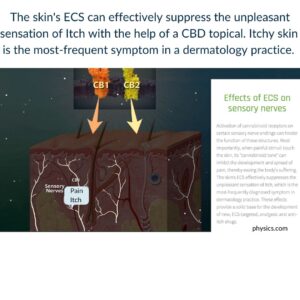 CBD may optimize our ability to fight pain by interacting with receptors involved in the pain response, including serotonin receptors and opioid receptors," says Dr Friedman. There is research to support that phytocannabinoids like CBD, interact with receptors within our skin's endocannabinoid system and other enzymatic factors within our skin that modulate pain sensation and inflammation.
CBD TOPICAL PAIN CREAMS ARE KNOWN TO HELP CONDITIONS SUCH AS:
Arthritis
Tendinitis
Psoriasis (Erythrodermic: painful, itchy, red scaly type)
Maximize workouts/rehab/sports: Muscle soreness Neuropathy
Chronic Pain: Hip/Knee/Shoulder discomfort
Sun-damage Age Spots (better than vitamin C products)
Eczema
Migraines
Jaw pain
Atopic Dermatitis & Other skin conditions with closed wounds (bug bites, skin growth, reduction in scars, cellulite)
Reliable topical hemp aka CBD products do not just mask pain or inflammation as some over-the-counter pharmacy purchased topical pain relief creams do. They actually can make the pain go away for a certain time period. They balance your skin's endocannabinoid system and feed the receptors naturally occurring in our bodies. Simple apply generously to aching muscles or joints 3-4 times a day or as needed. Please share with us success stories as they help other people suffering feel comfortable purchasing.
Sending you all healing energy,
Gelsum Topical Hemp™  Team
TRIED/TRUE/PROVEN – references listed below
Arthritis
 

https://www.ncbi.nlm.nih.gov/pmc/articles/PMC7176325/
A 2019 report from the Arthritis Foundation found that 79% of the 2,600 arthritis patients surveyed had considered using CBD or had already used it.
Sports/Pain https://www.ncbi.nlm.nih.gov/pmc/articles/PMC7338332/. https://pubmed.ncbi.nlm.nih.gov/28885454/       https://www.ncbi.nlm.nih.gov/pmc/articles/PMC5554313/CBD
Sun-damage https://www.ncbi.nlm.nih.gov/pmc/articles/PMC7327251/.   important fact: CBD was able to penetrate keratinocytes, and accumulated within the cellular membrane.