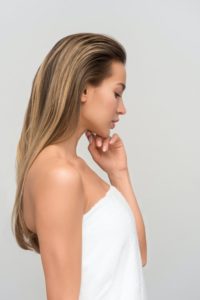 Are you looking for genuine anti-aging solutions for your skin? Then it is extremely important that you dive deeper into the root cause of dermal collapse and understand COLLAGEN.
When you have acne, sun spots, wrinkles, cellulite or any other skin issues associated with aging; it's all happening because of dermal collapse, loss of collagen, bone loss, compromised skin barrier. Now in order to get ahead of aging, your skin requires undergoing a process which is known as collagen synthesis.
Collagen is the strongest and most abundant protein that plays a huge role in healing wounds, skin elasticity, skin tone, repairing skin cells and  damage your skin goes through from within. Other than healing the skin, collagen is also responsible for softening fine lines and skin elasticity, leaving your skin supple and youthful.
The desire to keep your skin supple, youthful and fight skin aging, highlights the importance of organically sourced skin care solutions like GELSUM TOPICAL HEMP™ and cross-functional treatments such as derma-planing and derma-rolling that penetrate into the dermis layer of the skin to help you optimize results.
If you have dermal collapse, it's quite evident why expensive anti-aging skin serums and moisturizers fail to treat signs of skin aging alone. Using semi-invasive skin care tools like derma-rolling and facial steamers will help penetrate nourishing serums into the dermal layer of the skin for inducing the formation of new collagen.  (see BLOG post on Elevate Home Skin Care Routine for skincare tools)